Odor Removal in Portland, OR
Got Pet, Urine, or Vomit Odor in Portland, Oregon?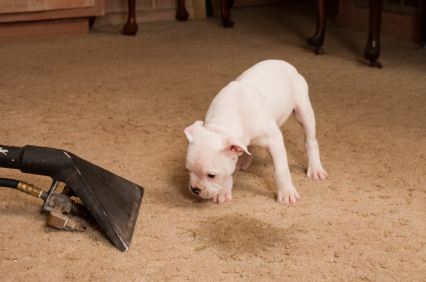 Stop! Before you use a commercial stain or odor removal product that may damage your carpet or upholstery, call the experts at Praise Cleaning Services for your Portland, Oregon stain and odor removal. Removal of stains and odors, whether from pets, kids, or a crazy weekend, is a science, and technicians at Praise Cleaning Services are highly skilled. The pH of "fresh" urine is between 5 and 6, which is on the acidic side. Once dried, pet urine becomes more alkaline, with a pH of 10 to 12. Fresh urine is easiest to clean. Prompt clean up is ideal, as warm, acidic urine breeds bacteria. As the pet urine dries, the ammonia can cause a permanent stain in your carpet or upholstery. In either case, call Praise Cleaning Services as soon as possible for odor removal in Portland, Oregon.
The technicians at Praise Cleaning Services have been carefully, yet effectively, removing pet & vomit stains and odors from Portland, Oregon carpets and upholstery for years! Portland residents have trusted Praise Cleaning Services with their worst pet odors and stains, because they know that Praise Cleaning Services experts have been extensively trained in stain removal and urine odor neutralization. They know how to assess a stain to determine it's chemical composition, and can eradicate the odor from your Portland, Oregon carpet and upholstery, while protecting delicate fibers.
Call Praise Cleaning Services today and free your Portland home from that ODOR!
---
WHAT CUSTOMERS ARE SAYING:
5★★★★★ - "Amazing service!!!!
I had praise cleaning service clean a apartment home that was moved out of. I honestly was shocked at the depth and cleanliness of their cleaning. I have used multiple companies for my apartment turnover, but now plan to strictly use praise cleaning services as they did an amazing job. If you want your home cleaned with quality that you yourself would do definitely hire them. Thank you so much for the job well done."
Anonymous, Move In & Out Cleaning in Portland, OR
---
5★★★★★ - "They did wonderful job!!! Words can't describe how happy I'm when I saw the place. So clean and smell so nice. I highly recommend this company to anyone who needs a move in/out clean service. Love it!!!"
Jacqueline D., Move In & Out Cleaning in Portland, OR
---
5★★★★★ - "Excellent work . Very honest people . Wonderful job, very prompt and professional service. Pleasant people to work with."
Cecille R., Floor Cleaning in Portland, OR
---
5★★★★★ - "Divine services!!!
This company does amazing work! They were able to come in and offer same day services after another company accepted the job and then said they could do it. Praise cleaning services eliminated the stress or move out for our family and offered an affordable price. I tipped extra because the work was amazing. This was definitely a divine appointment. I highly recommend their services and will use them again!"
Antoinette H., Move In & Out Cleaning in Portland, OR
---
Call for FREE Odor Removal Quote
---
Odor Removal available in the following Portland, OR zip codes:
97086
97201
97202
97203
97204
97205
97206
97207
97208
97209
97210
97211
97212
97213
97214
97215
97216
97217
97218
97219
97220
97221
97222
97223
97224
97225
97227
97228
97229
97230
97231
97232
97233
97236
97238
97239
97240
97242
97256
97258
97266
97267
97268
97269
97280
97281
97282
97283
97286
97290
97291
97292
97293
97294
97296
97298
97299