Odor Removal in Wilsonville, OR 97070
Got Pet, Urine, or Vomit Odor in Wilsonville, Oregon?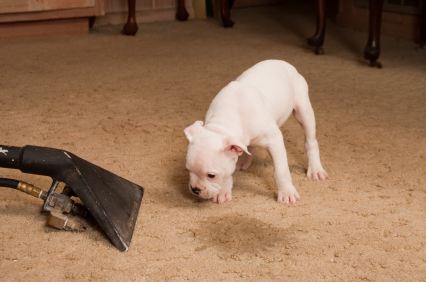 Stop! Before you use a commercial stain or odor removal product that may damage your carpet or upholstery, call the experts at Praise Cleaning Services for your Wilsonville, Oregon stain and odor removal. Removal of stains and odors, whether from pets, kids, or a crazy weekend, is a science, and technicians at Praise Cleaning Services are highly skilled. The pH of "fresh" urine is between 5 and 6, which is on the acidic side. Once dried, pet urine becomes more alkaline, with a pH of 10 to 12. Fresh urine is easiest to clean. Prompt clean up is ideal, as warm, acidic urine breeds bacteria. As the pet urine dries, the ammonia can cause a permanent stain in your carpet or upholstery. In either case, call Praise Cleaning Services as soon as possible for odor removal in Wilsonville, Oregon.
The technicians at Praise Cleaning Services have been carefully, yet effectively, removing pet & vomit stains and odors from Wilsonville, Oregon carpets and upholstery for years! Wilsonville residents have trusted Praise Cleaning Services with their worst pet odors and stains, because they know that Praise Cleaning Services experts have been extensively trained in stain removal and urine odor neutralization. They know how to assess a stain to determine it's chemical composition, and can eradicate the odor from your Wilsonville, Oregon carpet and upholstery, while protecting delicate fibers.
Call Praise Cleaning Services today and free your Wilsonville home from that ODOR!
---
WHAT CUSTOMERS ARE SAYING:
"Uzor arrived on time, reviewed with me the quoted price for work requested, and immediately began to clean our carpets, including stairway. The results were nothing less than spectacular! He was fast, professional and worked very hard. Less than three hours later, my carpets are dry and I could not be more pleased with the results. I am giving Praise Cleaners business cards to all of my friends!"
Mike S. in Wilsonville, OR
---
"We were so pleased with Uzor and will have him back the next time we have our carpets cleaned. He was so polite and worked hard. Thanks Uzor!"
Julie H. in Wilsonville, OR
---
"Great job. On time, courteous and it all looked great when done. Thanks again."
Lori H. in Wilsonville, OR
---
"The project was done with professional attention to details and customer service. I could not have asked for a better results. Thanks to Praise Cleaning for a great looking carpet!!!"
Janet N. in Wilsonville, OR
---
Call for FREE Odor Removal Quote
---
Odor Removal available in the following Wilsonville, OR zip codes: